How to enjoy the freedom of the RV lifestyle, without breaking the bank
Amanda Stephenson, The Canadian Press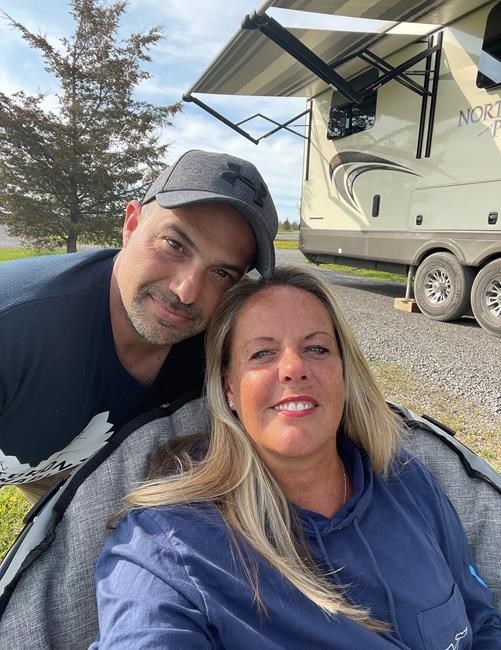 The name that Nikki and Steve Ferreira have given to their 44-foot, fifth wheel RV is something of an inside joke.
That's because, when Steve made a spur-of-the-moment suggestion back in 2020 that the Burlington, Ont. couple buy an RV, Nikki's first reaction was to fret about where the money would come from. Their daughter was about to head off to university for the first time, and making such a big purchase at a time when tuition bills were about to start rolling in made Nikki's stomach churn.
Then Steve wisecracked that perhaps their daughter was already "smart enough."
"We ended up naming our trailer 'Smart Enough,' " Nikki said with a laugh.
"And I went from 'we can't afford this,' to this year having a seasonal site that we're at every weekend. Now I just can't get enough."
The Ferreiras aren't alone in having fallen in love with the freedom and adventure of the RV lifestyle. According to the industry group Go RVing Canada, there are more than two million recreation vehicles on the road in this country, and approximately 15 per cent of Canadian households own some type of RV.
But getting into RVing is also a big financial decision. The Ferreiras could afford to purchase a new unit outright — and their daughter still got to go to university — but others may decide on buying used, or renting. The Canadian Recreational Vehicle Association has an RV loan calculator on its website for those who will be financing their purchase.
Either way, the first step is deciding what kind of RV to go with. There are many types, and their costs vary widely. A new pop-up tent trailer that can be towed behind the family SUV can be had for as little as $20,000, while a Class A motorhome is more like a private luxury bus and can cost upwards of $500,000.
"Whether you plan to rent or own, ask yourself these four questions," said Cyrus Irani, director of digital strategy with Go RVing Canada.
"How often do you plan to use your RV? Where will you be using it? What amenities do you need to have? And how many people will be using that RV?"
Once you've settled on the type of unit that meets your needs, renting can be a great way to test the waters. Options range from traditional dealerships to peer-to-peer RV sharing websites such as RVezy and Outdoorsy.
Renting can also be a long-term solution if you think you'll enjoy RVing, but won't have the time to go more than once or twice a year. A typical Class C motorhome usually rents for between $1,500 and $2,000 per week, and comes fully equipped with kitchenware, towels and bedding so you don't have to buy all the fixings just to go on a road trip.
It's also worthwhile looking into one-way discounts. Some rental companies, such as CanadaDream, will offer heavily discounted one-way rates when they need to move an RV from one fleet location to another.
If you think you'll use your unit often, buying can make more financial sense than renting, said Shane Devenish, president of the Canadian RV Association.www.crva.ca
But he cautioned you should budget for other expenses beyond the purchase price, including fuel costs, maintenance, and storage fees.
"Don't forget insurance and maybe extended warranty," Devenish said. "And there's the upkeep you need to do regularly on an RV just to make sure that it stays a home on wheels, so to speak."
Many enthusiasts believe RVing stacks up favourably from an economic perspective when compared to other forms of travel. It allows vacationers to prepare their own food, avoiding the cost of dining out, and skip pricey hotel stays and airfares.
A 2020 study conducted by research consultancy The Portage Group for the Canadian Recreational Vehicle Industry concluded that vacations in tent and travel trailers cost 16 per cent less on average than driving and staying in Airbnbs, 37 per cent less than driving and staying in hotels and 57 per cent less than flying and staying in hotels.
Of course, actual savings will vary depending on the cost of accommodations at a specific destination, trip length and distance. RV travellers can lower their vacation costs significantly by avoiding long road trips in favour of exploring closer to home, as well as by travelling during the spring and fall shoulder seasons instead of the peak summer period.
Irani said it's also worthwhile checking with your RV dealer for campground recommendations. The dealer may have relationships with certain campground operators that offer reduced rates.
RVing is a luxury, not a necessity, said Nikki Ferreira, who suggested sitting down and seriously crunching the numbers before getting carried away by dreams of the open road.
"I definitely don't recommend an impulse decision, like we made," she said.
Still, Ferreira said the advantage of RVing is that you can decide whether you want to pop over to the nearby lake with a gently-used mini teardrop trailer for the weekend, or travel across North America for months in a giant home on wheels.
"You're the one who gets to design your travel and what you experience," she said.
"So keep an open mind. Because you can do it as glamorously or as rustically as you want to. And I do think it's an adventure everyone should experience."
This report by The Canadian Press was first published July 20, 2023.
Amanda Stephenson, The Canadian Press – Twitter @AmandaMsteph
Latest posts by Canadian RV Association
(see all)